Whether your first time to Danang or a seasoned traveler, Danang (and all of Vietnam) offers a plethora of must try food and dishes. From fragrant soups to healthy vegetarian options, the city's vibrant restaurant and street food scene presents a gourmand experience for all tastes. A great variety of cuisines are located near Samdi Hotel, your preferred 5 star hotel in Da Nang.
We've taken the time to select our favorite dishes to share with you, and where you can find the best restaurants in Danang. Join us on this culinary journey through one of Vietnam's most exciting food destinations. These food specialties of Danang are presented in no particular order, as all are a must try.
Bánh xèo
Vietnamese Pancakes
Banh Xeo is famous throughout Vietnam and is one of the most recognizable dishes originating from the South-East Asian nation. Although commonly referred to as a "Vietnamese pancake," banh xeo has very little in common with a western-style pancake, as the dish is actually fried rice flour with water and turmeric powder. The dish has a savory flavor with very little sweetness. The dish can be prepared with a variety of fillings including vegetarian and meat options. Commonly, the dish is served with shrimp and pork alongside bean sprouts, herbs, and green onion. Of course, fish sauce is served for dipping to add a taste of saltiness.
Located between Samdi Danang Hotel near the airport and the famous Dragon Bridge in Danang is Ba Duong Banh Xeo Restaurant. Ba Duong is a famous banh xeo restaurant, popular amongst locals, domestic tourists, and international visitors. It is located down a quaint alley with vendors selling a variety of goods and imitation banh xeo restaurants, be sure to go to the end of the alley for the authentic experience.
Banh Xeo Ba Duong
280/23 Hoàng Diệu, Hải Châu, Q. Hải Châu, Đà Nẵng
Mi Quang
Mi Quang Noodles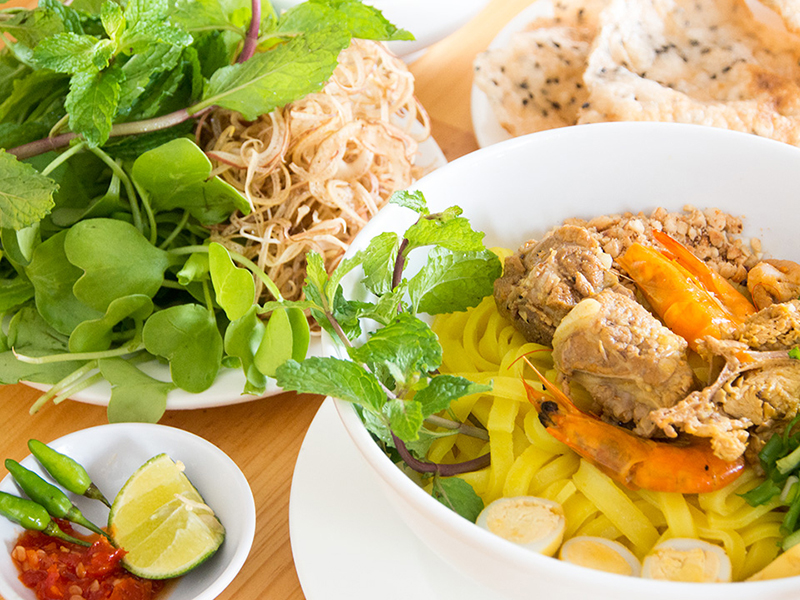 Aromatic and flavorful, Mi Quang is possibly the most famous dish from central Vietnam is a feast for the senses. The dish originated in Quang Nam, and takes its name from the province. Visually appealing the bright yellow rice noodles take their color from turmeric powder which adds a strong flavor to the rice dish. While grilled meats and fresh shrimp are added to the bowl and topped with an aromatic broth (which has been slow cooked using pork meat and bone). The dish is garnished with Vietnamese herbs including coriander, cilantro, and fresh lettuce. While nuoc mam (fish sauce) and peanuts are spread on top. Everything can be mixed in the bowl for a flavorful meal for breakfast, lunch, or dinner.
Try Mi Quang at Khong Gian Xua
Khong Gian Xua is located just west of the Danang airport on Dien Bien Phu street. The famous restaurant is presented like a classic market and offers a diverse selection of Vietnamese dishes. Mi Quang is one specialty that Khong Gian Xua excels in and is perfectly presented in the quaint atmosphere.
Khong Gian Xua
402 Điện Biên Phủ, Thanh Khê Đông, Q. Thanh Khê, Đà Nẵng, Vietnam
Bun Thit Nuong Danang
Danang-style Rice Noodles with Grilled Meat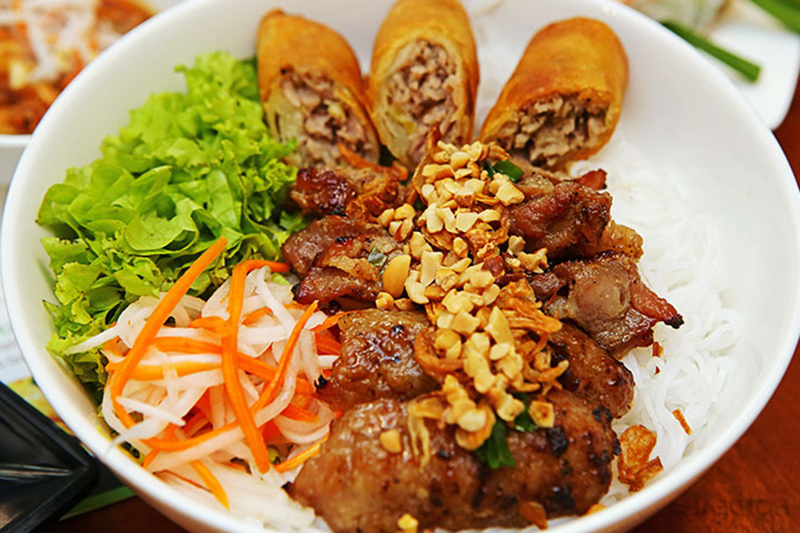 Bun Thit Nuong is a famous dish throughout Vietnam, but each province has their own style. In Danang, this delectable dish is served with wide rice noodles. Topped with succulent roast pork, the rice noodles are then garnished with Vietnamese herbs and spices. For additional flavor, fish sauce, soy sauce, and chili peppers can be added.
Bun thit nuong is one of the most popular dishes in the city and can be found in restaurants and street stalls near Samdi Hotel in Danang.
Bun Cha Ca
Rice Noodles with Fried Fish Cake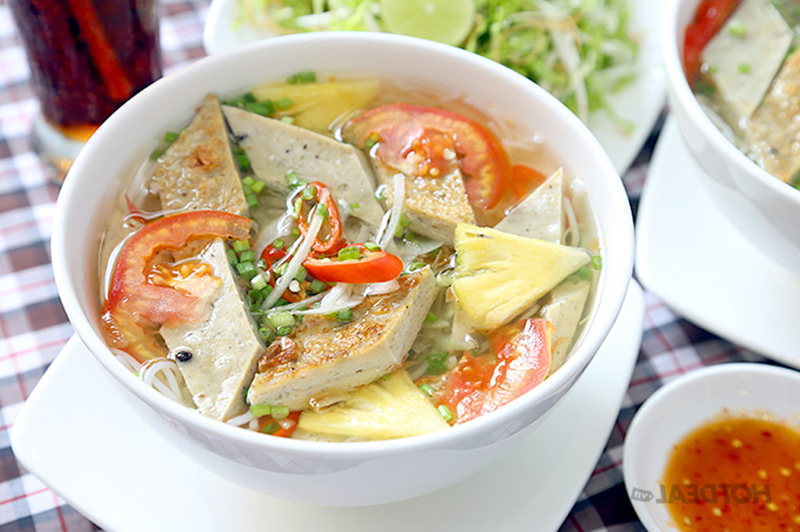 This dish could almost be considered a staple in the diet for many citizens of Danang. It is served throughout the day, and is popular for breakfast, lunch and dinner. The dish features the same rice noodles as Bun Thit Nuong, but features the delicious taste of fishcake. The dish takes on a unique flavor with an aromatic broth an assortment of herbs and spices, and of course plenty of fish sauce.
It would be improper to say which restaurant serves the best Bun Cha Ca, as the city is full of many unique varieties of the dish; however, Gourmet Restaurant in Samdhi Hotel features its own recipe of the famous dish in the main restaurant.
Bê Thui
Roasted Veal
In Danang, be thui is quiet possibly one of the most popular dinner and late night meals. The dish is essentially and roasted calf served with rice paper for rolling, Vietnamese coriander, additional herbs and vegetables, and dipping sauces. The dish is quite unique and flavorful itself, but what makes the dining experience truly interesting is the atmosphere of the restaurant. Be thui restaurants are generally large open areas with groups eating and drinking throughout the evening and into the night.
Be Thui Restaurants are common throughout Danang. They can be easily spotted by the open pit and roasted veal outside the restaurant.
Hải Sản Tươi Sống Đà Nẵng
Danang Fresh Seafood
Located on the coast in Central Vietnam, Danang offers some of the best seafood Vietnam has to offer. With local fisherman selling their fresh catch each morning at the local market, restaurants in Danang provide an amazing assortment of seafood dishes and specialties. From slipper lobster to jumbo shrimp, and of course fresh fish, seafood options in Danang are endless.
For the best seafood in Danang, it is best to head to the beach. There are multiple seafood restaurants along Vo Nguyen Giap Highway on the east coast, and even more options along Nguyen Tat Thanh Highway on the north coast.
If your looking for something a little closer to the airport and Samdi Hotel in Da Nang, Nha Hang Ho Xanh is within walking distance:
Nhà Hàng Hồ Xanh
83 Tản Đà, Thạc Gián, Thanh Khê, Đà Nẵng
Culinary Exploration in Danang
This is only the beginning of your culinary journey in Danang. Many of the dishes presented in this list are famous as Danang Street Food specialties, but also are present at some of the best restaurants in Danang. We recommend you try all of the dishes above and explore the many dishes not present on our list. If you're looking for more Vietnamese food, be sure to check out our article Vietnamese Food: More Must-Eat Dishes.