A visit to Vietnam isn't complete without visiting some of the religious temples and pagodas. Just like any major city in Vietnam, pagodas from large to small can be found on almost any street. Some feature massive courtyards and towering statues while others are simply shrines for local offerings. Here are some of our favorite pagodas located throughout Danang.
Đền Thờ Ngư Ông Phú Lộc
Boat Temple on North Beach
Across the street from 1321 Nguyễn Tất Thành, Thanh Khê Đông, Thanh Khê, Đà Nẵng, Vietnam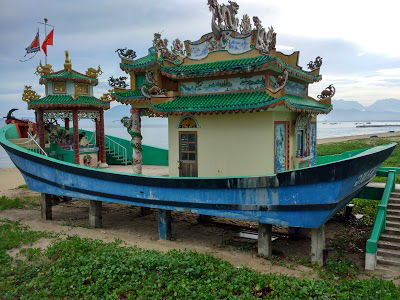 One of the more interesting pagodas in Danang, this destination is a bit off the beaten path. Located on Nguyen Tat Thanh Boulevard along the North Beach in Danang, the pagoda has been built in a boat that's moored on the beach. Bright and colorful, the pagoda has been painted with hues of blue reflecting the colors of the ocean. Adorning the roof are traditional dragon ornaments, and facing the ocean is a ship's wheel.
The pagoda is an important religious site for offerings, particularly for persons with livelihoods dependent on the sea.
The northern beach is less popular than the My Khe Beach on the east coast, but offers decent swimming and a spectacular view of the mountains to the west. A set of mountains famously known for the Hai Van Pass.
It is recommended to take a taxi or private car from Samdi Danang Hotel near the airport to reach the pagoda and beach.
Đền Thờ Thoại Ngọc Hầu
Across the street from 14 Hà Thị Thân, An Hải Tây, Sơn Trà, Đà Nẵng, Vietnam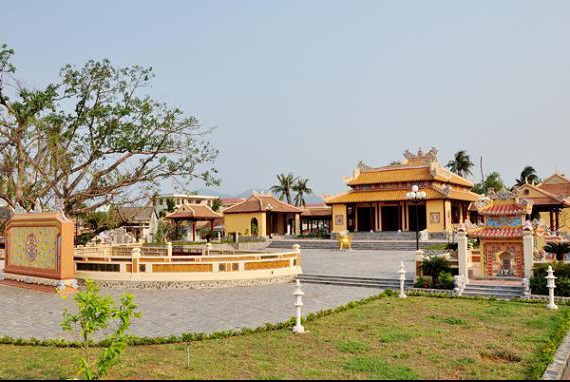 Thoai Ngoc Hau Pagoda is a quaint temple with a wide courtyard. From the street, you'll immediately notice the entrance featuring four tall pillars directly in front of a yellow wall with an ornamental circle adorned with white dragons on a red background. This wall blocks the view of the temple, but behind it lies a small pond and a large opening courtyard. The courtyard features a large golden vase for incense burning.
At the far end of the court yard is the actual temple, a larger building, flanked by two smaller temples on each side. The building is quite beautiful with bright yellow walls, natural-colored pillars, and orange tiled roofing. Three large doors open to the main worshipping area where guests can offer prayers and offerings.
The location to this temple is quite unique, as it is just one block from a perfect spot to look at the Dragon Bridge in Danang. From this view, you'll have a clear view of the dragon's head and body as it spans the Han River. In the evening, vendors setup to offer cups of Vietnamese coffee and other refreshments. This is a great spot to view the dragon breathing fire which takes place every Sunday night around 9:00pm.
From Samdi Hotel in Danang, the Thoai Ngoc Hau Pagoda can be easily reached by taking Nguyen Van Linh until you cross the Dragon Bridge, then simply turn around and head south on Tran Hung Dao (along the Han River) and in one block turn right onto Ha Thi Than.
Phap Lam Pagoda
574 Ông Ích Khiêm, Nam Dương, Hải Châu, Đà Nẵng
This smaller temple is located just a few kilometers from Samdi five-star hotel in Danang. On the pagoda grounds, you'll immediately notice the large Buddha statue painted in gold. Throughout the pagoda, you will notice different variations of Buddha in white and gold.
When entering the pagoda, you'll be stepping into a large courtyard with buddhas The temple is painted with a traditional yellow color which can be noticed throughout Vietnam. While the wood work has been painted a dark, natural brown color.
Interesting things to note at traditional temples are the interesting woodwork and sculptures adorning the building and temple grounds. A pair of lion guardians (known as Sư tử đá) often stand at entrances to provide protective benefits. Buildings often feature round windows with intricate wood patterns.
The Phap Lam Pagoda is located in downtown Danang and within walking distance (650m) to Cho Con Market and the Big C shopping center in Vinh Trung Plaza.
Bat Nha Pagoda
176 Triệu Nữ Vương, Nam Dương, Hải Châu, Đà Nẵng, Vietnam
Just south of Phap Lam Pagoda on Ong Ich Khiem Street lies Bat Nha Pagoda. This unique pagoda features a white exterior with large ornate gates at its entrance. The temple itself is quite large, covering two floors with beautiful terraces adorned with intricate white carvings on the railings. The white façade is accented by dark auburn doorways which open to the pagoda's main rooms.
The Bat Nha Pagoda is not only impressive for its beautiful white buildings, but the temple also features some beautiful pieces of art including intricate paintings.
To reach the pagoda from Samdi Hotel in Da Nang, one can simply take Nguyen Van Linh east towards the ocean. Once you reach the first round about, turn left and head up Ong Ich Khiem. Within a few minutes, you will arrive at Bat Nha Pagoda on your right side. The pagoda located is roughly 1 kilometer east of the hotel.
Linh Ung Pagoda at Son Tra Peninsula
Quite possibly the most famous pagoda in Danang, the Linh Ung Pagoda on Son Tra Peninsula is visible from My Khe Beach with a large white buddha statue overlooking the Pacific ocean. From a distance, the statue looks lonely on the side of the forested mountainside, but the pagoda complex is actually quite large with many spacious courtyards and worship halls.
This pagoda is simply a must see for any visitor to Danang and requires at least an hour to fully explore the complex. Note during holidays the pagoda can become very crowded.
Linh Ung Pagoda is located on the south side of Son Tra Peninsula. The easiest way to visit is through the private transportation service at Samdi Hotel in Da Nang or a taxi service.
Self-Exploration and Discovery
The pagodas of Vietnam are magnificent, and each has their own unique charm. Some are quaint and calming while some are large and full of energy. Simply walking the neighborhoods of any major city in Vietnam, one is sure to discover new experiences at any of the many pagodas. Please note it is advised to dress in appropriate attire when visiting a pagoda and be respectful in these important places of worship.
See more: Must Try Food in Danang